Hydraulic operating systems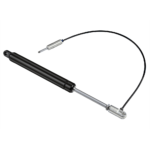 The most elegant and comfortable form of condition for the lockable gas pressure spring is the hydraulic release. It allows trigger points to be positioned perfectly. The hydraulic lines are easy to integrate around different corners and edges in your application.
We offer various options, so adjustments are an option.
Force (F1) – N
Diameter Hole 8.1
Piston Rod connection M8.1
Assembly length 30 mm
Material
Force (F1) – N
Diameter Hole 8.1
Piston Rod connection M10x1
Assembly length 30 mm
Material
Force (F1) – N
Diameter Hole 8.1
Piston Rod connection M14x1.5
Assembly length 30 mm
Material
I require more information :